April 15th - April 17th
BingoSKY
$50,000 COVERALL MIN. $10,000 GAME
This year, our Easter celebrations will not stop until the end of this month! On Saturday April 30th, an amazing $50,000 Coverall minimum $10,000 Game will be played in our Tourney Room with cards sold at $5 each.
We will start the fun at 8:00 PM ET with three $1,000 Guaranteed Games every hour on the hour. Card Cost for the $1K Guaranteed Games are at $2. We will then play our Big Game at 11 PM.
So come on over and celebrate your Easter a little bit longer. We will definitely have a blast and who knows, you could be the one our $50,000 is waiting for!

Bingo Roomy
This weekend we have fantastic assortment of your favorite games on BingoRoomy!
Magical Night Quarters
Minimum $20 pots this Friday, April 15 and Saturday, April 16 from 9 p.m. - 11 p.m.
And on Sunday, April 17 from 9 p.m. -10 p.m. (EST) in our Quarters Room!
You can pre-buy those now!
Weekend Slots Tourney
Play from Friday, April 15 to Sunday, April 17
Top 3 slots players (by Sum of Wins) will win:
1st Prize: $100 Cash + 100 Roomy Bucks
2nd Prize: $75 Cash + 75 Roomy Bucks
3rd Prize: $50 Cash + 50 Roomy Bucks
Good Morning Nickels
Win $10 Guaranteed pots between 10.00 a.m. to 12.00 p.m. (Noon) EST in Nickels room on Saturday and Sunday mornings.
Hurry! Pre-order your cards NOW!
Bingo Roomy Text Game
The Bingo Roomy Text Game offers a wonderful chance to add $5 Roomy Bucks to your account! All you need to do is send us your cell number pre-fixed by the area code and country code to
promotions@bingoroomy.com
.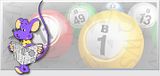 Bingo Charm
$500 GUARANTEED COVERALL FRIDAYS!!
Be Sure To Join Us Each And Every Friday At 10pm Est. Guaranteed $500.00 Must Go Coverall Action! The $500.00 Guaranteed Coverall Will Be Set At 50 Numbers On Friday Night And If Its Not Won By Midnight, We Will Run It Again On Saturday Night And The Numbers Will Increase Until It's Won! If It Is Won On Friday, Saturday Night Starting At 10pm Est We Will Have 2 Hours Of The Hotball Coveralls Where If You Are The 1st To Bingo On N31 Your Win Is A Guaranteed Redeposit!!
TGI Friday!!
After Such A Long Hard Week, Waldo Wants You To Put Your Feet Up And Use Your Noggin Instead! Be The First to Answer a Trivia Question and Win an Entry to pick on the Treasure Trove Board!!
Saturday Egg Hunt!!
Every Saturday There Will Be A Deal Or No Deal For The Top 5 Players With The Most Eggs In Their Basket! Bingo on an Egg Pattern to Collect It.
Sunday Stroll!!
Put on your Sunday Best For A Stroll Through The Park, Walk Hand In Hand With Waldo. He Has A Question To Ask You. No, He's Not Proposing, But Be the First to Answer the Trivia Question and You'll Win a Pick on the BOTB Board!!
Betfred Bingo
No USA
Monthly Super Bingolinx this Sunday - £10,000 guaranteed prize fund!
On the last Sunday of every month there is a massive Super BingoLinx game taking place at 10:30pm, guaranteed to pay out a massive £10,000 so make sure you don't miss the monthly Sunday extravaganza!
Terms and conditions for all games

25% losses returned on all slots!
Enter bonus code SLOTLOSS25 and get 25% of your losses back when you play any slot game today!
Steamy Bingo
No USA
Every day in Room 2 between 8-9am, 5-6pm and 8-9pm our new daily specials play out as follows:
Friday "Freebie Fridays!" - Free ticket games
Saturday "Saturday Saloon!" - Last Chance Saloon games
Sunday "Sunny Sundays!" - BOGOF games
Butlers Bingo
No USA
Get your £25 iTunes Voucher
In The Butler's Special Luxury Surprise...
Simply Play Bingo in the FREE Bingo 'Sunshine Room' between Friday 15th April & Sunday 17th April 2011 inclusive.
The FIRST PLAYER to call FULL HOUSE on any of these numbers 11, 22, 33, 44, 55, 66, 77 or 88 will WIN The Butler's Special Luxury Surprise of £25 iTunes voucher this weekend!!!
GOOD LUCK x