February 21st - February 24th
CYBER BINGO
DIGGING FOR DIAMONDS SPECIAL
We are digging deeper this week for some bigger diamonds! So grab your shovels and let the fun begin. This special will be too exciting to miss. On Thursday, February 24th, from 8pm-12am ET in our Diamond room, our Digging Diamonds will be worth more in value!
Special Payouts for Thursday, February 24th:
(3) Diamonds worth 20 BBs, if not won, pays 10 BBs in draw
(3) Diamonds worth 50 BBs, if not won, pays 25 BBs in draw
(3) Diamonds worth 80 BBs, if not won, pays 40 BBs in draw
(3) Diamonds worth 100 BBs, if not won, pays 50 BBs in draw
(3) Diamonds worth 200 BBs, if not won, pays 100 BBs in draw
Rules to our Digging Diamonds:
Bingo on a Diamond (based on the last ball called) and win the prize amount found under it. If there is more than (1) winner on a Diamond, it will be split amongst the bingo winners. Once a Diamond is found, it is taken off the board. The prize value of all the unfound Diamonds at the end of the game will be divided in half and put in drawing(s). (Example: If a 200 BBs Diamond was not found, a 100 BBs drawing will take place.) To be eligible for drawings:
1) You must be a nabor of a Diamond winner
2) Bingo winner on an already found Diamond
3) Bingo winner who did not find a Diamond
You must be in chat to receive your credit for your win. Nabors must answer to be eligible for the drawing. Winners of the drawing do not need to be in chat. The winners of the drawing will be announced at the end of the game. Drawing winners who did not purchase any games during the time period Digging Diamond is played, will not qualify for BBs.
A board will be provided with all numbers that will be chosen as Diamonds as well as the prize amounts. All players will be able to view which numbers they must bingo on to receive a Diamond. Bonus Rules Apply

VIC'S BINGO
Elephant Ride
No Safari Expedition is complete without a ride through the wilderness on an elephant! It's time to reward everyone whose relentlessness still doesn't pay off! Send us a total of 30 bingo games you've lost in our Quarters bingo room and we will let you in a FREE 1 hour bingo event, hosting fixed prizes of up to $1,000 , that will take place on Feb 24th.
You have from Feb 20th to Feb 23rd to send an email with a total of 30 losing game numbers (lost between those dates, only in Quarters) to
promotions@vicsbingo.com
. The list of players who will participate in the contest will be posted in our blog on Feb 24th along with the information about the event date and hours.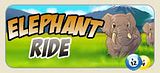 Jungle Camp Special
Spend a night in the wilderness. Gather round the camp fire, sing songs and share stories! Enjoy the gifts that the jungle throws your way! Our Penny Bingo room will feature the special Waterfall pattern. The first member, who wins a total of 10 Waterfall special gamesbetween Feb 18th and Feb 23rd, will get a $150 bonus, followed by the second and third members, who will get a special $50 bonus!
Just try to win as many of these as you can and send your set of winning game numbers to:promotions@vicsbingo.com no later than Feb 25th.
*Note: Only the first 3 members to win these special games and send the set of numbers will get the prizes!
*Final prizes will be credited no later than Feb 28th.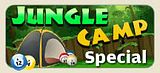 The Law of the Jungle
.
On Monday, Feb 21st, deposits of $100 or more will get a 400% bonus!
Party Animals
Nothing compares to the thrill and excitement of a safari expedition, especially when Vic's is the guide! Those crazy jungle animals are throwing the wildest party this side of the jungle has ever seen so be sure to join them as there'll be some amazing prizes involved! Play in our Chocolate bingo room on Feb 18th and Feb 23st, between 8:00 pm and 10:00 pm EST. Take a chance to max out your bingo cardsand prepare yourself to receive 12 FREE BINGO CARDS as a token of our appreciation! All you have to do is purchase the maximum amount of 12 cards between 8:00pm and 10:00pm EST and start winning!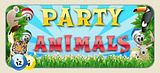 NEW BINGO BILLY
Billy Points Festival!
Receive MORE Billy Points from your deposits Tuesdays and Wednesdays
Now ALL the deposits you make from 12:01 am through 10:00 pm ET will earn you DOUBLE Billy Points!
From 10:01 pm- 11:59 pm ET you'll still make TRIPLE Billy Points for every dollar deposited!
Redeem your Billy Points for
$$$$$$$$$!!!
Just make your deposits during the Billy Points Festival and we'll automatically add the Billy Points after you make your deposits.
To redeem just open a Help Desk Ticket!
214% SWEET MONDAY BONUS:
Claim a 214% BONUS on your FIRST deposit of the day– REGARDLESS YOUR MEMBER LEVEL!
» You just need to open a Help Desk Ticket using the 'SWEET MONDAY BONUS' option in the drop down after you fund your account and one of our Bingo Hosts will adjust your account.
JACKPOTJOY
NO USA
Earn up to £50 cashback!
Starts: 22nd February 00:00:00 - Ends: 24th February 23:59:00
If you're a fan of our chic casino, then you won't want to miss this chance to get 10% cashback on a range of top games this weekend.
Play any casino games to qualify between Tuesday 22nd – Thursday 24th February.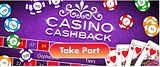 FOXY BINGO
NO USA
Check out Foxy's Diary for this week's specials!